UPDATE FEBRUARY 11, 2015 - 10-year-old Zachary Tanner from Oregon won the naming contest with the beautiful name "Echo."

Zachary thought of the name Echo "because she came back to the Grand Canyon like an Echo does."
Unfortunately, on December 28, 2014, Echo was shot and killed in southern Utah - apparently mistaken for a coyote by a hunter. Her incredible journey south from the Northern Rocky Mountain gray wolf population ended tragically.
**Naming Contest Now CLOSED**
Recently, a large, collared canine was spotted in the North Rim of the Grand Canyon in Arizona; DNA results just came in confirming that the lone animal is a wild gray wolf!
This wolf is the first to roam the Grand Canyon area since the 1940's!
The female wolf had to travel 450 miles from either Idaho, Montana, or Wyoming to reach the Grand Canyon. Check out the map below to see how far south she had to travel to reach northern Arizona (the occupied wolf range in southern Arizona is a small population of Mexican gray wolves; the Grand Canyon wolf was a gray wolf):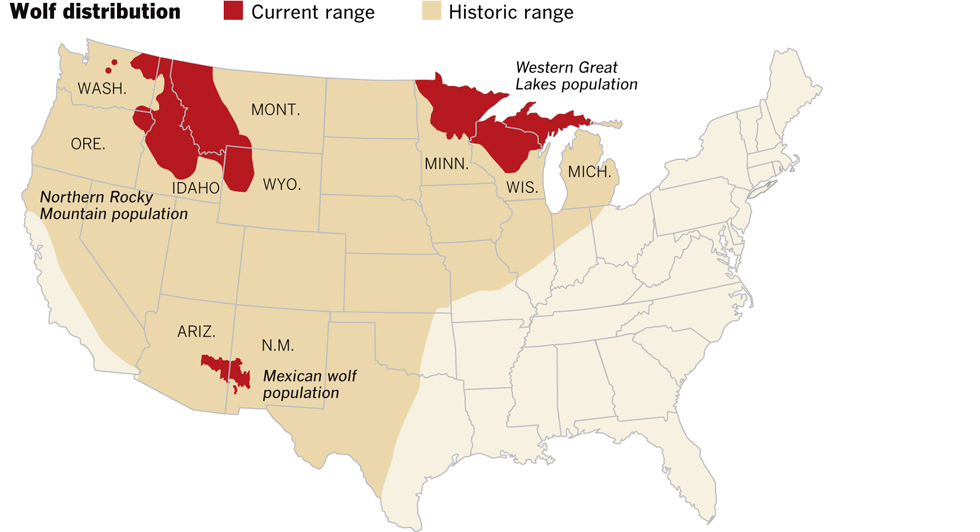 This female wolf traveled an amazing distance to find a mate and start a family, just like Oregon's famous wandering wolf OR-7, affectionately named "Journey" by the public.
Let's help give this astounding wandering wolf a name!